Extreme Plus - Shaker Cinder
Shaker Cinder RTA Kitchen and Bathroom Cabinets.
Solid Birch Door Frame with Veneered MDF Center Panel.
Recessed center panel.
Full Overlay Doors and Drawers.
Dovetail drawers, Under Mount Full Extension Soft Close Drawer Glides.
Concealed European Style Hinges with Soft Close Feature.
UV Coated Natural Interior.
½" Plywood Box with Painted Exterior.
Lead time: RTA: 5 business days to ship.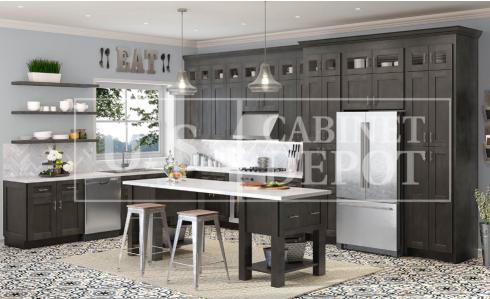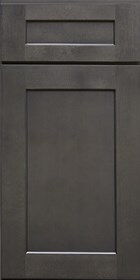 Download Brochure
Assembly Videos
Sample Chip - Shaker Cinder

SKU: SCIsamplechip

Price: $4.00

Shaker Cinder sample chip 3" x 3" wood.

Sample Door - Shaker Cinder

SKU: SCIsampledoor

Price: $38.00

Shaker Cinder Sample Door, free shipping. To be refunded in full when the sample door is returned.

Shaker Cinder Farm Sink Base FSB36

SKU: FSB36-SCI

Price: $852.00

On Sale! $366.36

Farm Sink Base 34.5"h x 36"w x 24"d. Will accommodate a farm sink with an apron up to 9"h.

Shaker Cinder Lazy Susan LSB33

SKU: LSB33-SCI

Price: $1,372.00

On Sale! $589.96

Lazy Susan Corner Base 33" width, 24" depth, 34 1/2" height. 2 Wooden Revolving Trays.

Shaker Cinder Lazy Susan LSB36

SKU: LSB36-SCI

Price: $1,470.00

On Sale! $632.10

Lazy Susan Corner Base 36" width, 24" depth, 34 1/2" height. 2 Wooden Revolving Trays.

Shaker Cinder Blind Base BBC36

SKU: BBC36-SCI

Price: $739.00

On Sale! $317.77

Base Blind Corner Cabinet 27" width. 24" depth, 34 1/2" height. Requires 36-1/2" of wall to allow opposing cabinets to open properly. Can be pulled to 43" maximum, Door width is 9-1/2"w. Shaker Grey. Hinged left = blind left, Hinged right =blind right.

Shaker Cinder Blind Base BBC42

SKU: BBC42-SCI

Price: $902.00

On Sale! $387.86

Base Blind Corner Cabinet 39" width. 24" depth, 34 1/2" height. Requires 42-1/2" of wall to allow opposing cabinets to open properly. Can be pulled to 49" maximum. Door width is 15-3/4"w.

Shaker Cinder Wall Bridge W361824

SKU: W361824-SCI

Price: $578.00

On Sale! $248.54

Wall Cabinet 36" width, 18" height, 24" depth. There are no shelves in the 24" deep cabinets.

Shaker Cinder Wall Blind Corner WBC2730

SKU: WBC2730-SCI

Price: $543.00

On Sale! $233.49

Wall Blind Corner Cabinet 27" width x 30" height x 12" depth. Can be placed tight to the wall using 28" of wall space or can be pulled no more than 3" off the wall using a maximum of 31" of wall space. Hinged left = blind left, Hinged right =blind right.

Shaker Cinder Wall Blind Corner WBC2736

SKU: WBC2736-SCI

Price: $611.00

On Sale! $262.73

Wall Blind Corner Cabinet 27" width x 36" height x 12" depth. Can be placed tight to the wall using 28" of wall space or can be pulled no more than 3" off the wall using a maximum of 31" of wall space. Hinged left = blind left, Hinged right =blind right.

Shaker Cinder Wall Blind Corner WBC2742

SKU: WBC2742-SCI

Price: $711.00

On Sale! $305.73

Wall Blind Corner Cabinet 27" width x 42" height x 12" depth. Can be placed tight to the wall using 28" of wall space or can be pulled no more than 3" off the wall using a maximum of 31" of wall space. Hinged left = blind left, Hinged right =blind right.

Shaker Cinder Wall Cabinet for Glass Door W1530GD

SKU: W1530GD-SCI

Price: $413.00

On Sale! $177.59

Wall Cabinet for glass doors 15" width, 12" depth, 30" height. Does not come with Mullions or the glass. The door is routed to receive glass from your local supplier.

Shaker Cinder Wall Cabinet for Glass Door W2430GD

SKU: W2430GD-SCI

Price: $597.00

On Sale! $256.71

Wall Cabinet for glass doors 24" width, 12" depth, 30" height. Does not come with Mullions or the glass. The door is routed to receive glass from your local supplier.

Shaker Cinder Wall Cabinet for Glass Door W3030GD

SKU: W3030GD-SCI

Price: $693.00

On Sale! $297.99

Wall Cabinet for glass doors 30" width, 12" depth, 30" height. Does not come with Mullions or the glass. The door is routed to receive glass from your local supplier.

Shaker Cinder Wall Cabinet for Glass Door W1536GD

SKU: W1536GD-SCI

Price: $465.00

On Sale! $199.95

Wall Cabinet for glass doors 15" width, 12" depth, 36" height. Does not come with Mullions or the glass. The door is routed to receive glass from your local supplier.

Shaker Cinder Wall Cabinet for Glass Door W2436GD

SKU: W2436GD-SCI

Price: $692.00

On Sale! $297.56

Wall Cabinet for glass doors 24" width, 12" depth, 36" height. Does not come with Mullions or the glass. The door is routed to receive glass from your local supplier.

Shaker Cinder Wall Cabinet for Glass Door W3036GD

SKU: W3036GD-SCI

Price: $797.00

On Sale! $342.71

Wall Cabinet for glass doors 30" width, 12" depth, 36" height. Does not come with Mullions or the glass. The door is routed to receive glass from your local supplier.

Shaker Cinder Wall Cabinet for Glass Door W1542GD

SKU: W1542GD-SCI

Price: $543.00

On Sale! $233.49

Wall Cabinet for glass doors 15" width, 12" depth, 42" height. Does not come with Mullions or the glass. The door is routed to receive glass from your local supplier.

Shaker Cinder Wall Cabinet for Glass Door W2442GD

SKU: W2442GD-SCI

Price: $793.00

On Sale! $340.99

Wall Cabinet for glass doors 24" width, 12" depth, 42" height. Does not come with Mullions or the glass. The door is routed to receive glass from your local supplier.

Shaker Cinder Wall Cabinet for Glass Door W3042GD

SKU: W3042GD-SCI

Price: $912.00

On Sale! $392.16

Wall Cabinet for glass doors 30" width, 12" depth, 42" height. Does not come with Mullions or the glass. The door is routed to receive glass from your local supplier.

Shaker Cinder Wall Diagonal Corner Cabinet for Glass Door WDC2430GD

SKU: WDC2430GD-SCI

Price: $762.00

On Sale! $327.66

Wall Diagonal corner Cabinet 24" width, 30" height, 12" depth. Shaker Grey, Matching finished interior and exterior. Does not come with Mullions or the glass. The door is routed to receive glass from your local supplier.

Shaker Cinder Wall Diagonal Stacker DCW2412GD

SKU: DCW2412GD-SCI

Price: $479.00

On Sale! $205.97

Wall Diagonal Stacker Cabinet 24" width, 12" height, 12" depth. Matching finished interior and exterior. Does not come with Mullions or the glass. The door is routed to receive glass from your local supplier.

Shaker Cinder Pantry U188424

SKU: U188424-SCI

Price: $1,556.00

On Sale! $669.08

Pantry cabinet 18" width, 24" depth, 84" height. Two doors, three adjustable full depth shelves in the bottom section, two in the top section. Bottom door is 49-1/4"H.

Shaker Cinder Pantry U189024

SKU: U189024-SCI

Price: $1,609.00

On Sale! $691.87

Pantry cabinet 18" width, 24" depth, 90" height. Two doors, three adjustable full depth shelves in the bottom section, two in the top section. Bottom door is 49-1/4"H.

Shaker Cinder Pantry U189624

SKU: U189624-SCI

Price: $1,684.00

On Sale! $724.12

Pantry cabinet 18" width, 24" depth, 96" height. Two doors, three adjustable full depth shelves in the bottom section, two in the top section. Bottom door is 49-1/4"H.

Shaker Cinder Pantry U248424

SKU: U248424-SCI

Price: $1,838.00

On Sale! $790.34

Pantry cabinet 24" width, 24" depth, 84" height. Two doors, three adjustable full depth shelves in the bottom section, two in the top section. Bottom door is 49-1/4"H.

Shaker Cinder Pantry U249024

SKU: U249024-SCI

Price: $1,912.00

On Sale! $822.16

Pantry cabinet 24" width, 24" depth, 90" height. Two doors, three adjustable full depth shelves in the bottom section, two in the top section. Bottom door is 49-1/4"H.

Shaker Cinder Pantry U249624

SKU: U249624-SCI

Price: $2,006.00

On Sale! $862.58

Pantry cabinet 24" width, 24" depth, 96" height. Two doors, three adjustable full depth shelves in the bottom section, two in the top section. Bottom door is 49-1/4"H.

Shaker Cinder Pantry U309024

SKU: U309024-SCI

Price: $2,048.00

On Sale! $880.64

Pantry cabinet 30" width, 24" depth, 90" height. Two doors, three adjustable full depth shelves in the bottom section, two in the top section. Bottom door is 49-1/4"H.

Shaker Cinder Pantry U309624

SKU: U309624-SCI

Price: $2,153.00

On Sale! $925.79

Pantry cabinet 30" width, 24" depth, 96" height. Two doors, three adjustable full depth shelves in the bottom section, two in the top section. Bottom door is 49-1/4"H.

Shaker Cinder Oven Cabinet OC338424

SKU: OC338424-SCI

Price: $2,271.00

On Sale! $976.53

Oven Cabinet 33" width, 24" depth, 84" height. The opening measures 26-1/2"W X 24-3/8"H . Will fit any standard size oven. Can be arranged as a single oven, double oven, or oven & microwave combination by removing the necessary drawers and cutting the frame to fit.

Shaker Cinder Oven Cabinet OC339024

SKU: OC339024-SCI

Price: $2,498.00

On Sale! $1,074.14

Oven Cabinet 33" width, 24" depth, 90" height. The opening measures 26-1/2"W X 24-3/8"H . Will fit any standard size oven. Can be arranged as a single oven, double oven, or oven & microwave combination by removing the necessary drawers and cutting the frame to fit.

Shaker Cinder Oven Cabinet OC339624

SKU: OC339624-SCI

Price: $2,681.00

On Sale! $1,152.83

Oven Cabinet 33" width, 24" depth, 96" height. The opening measures 26-1/2"W X 24-3/8"H . Will fit any standard size oven. Can be arranged as a single oven, double oven, or oven & microwave combination by removing the necessary drawers and cutting the frame to fit.

Shaker Cinder Vanity Unit VU3021D

SKU: VU3021D-SCI

Price: $1,051.00

On Sale! $451.93

RTA Bath Vanity sink base with drawers 30" width, 21" depth, 34 1/2" height. Choose drawers Left or drawers Right from the dropdown box in the shopping cart.

Shaker Cinder Vanity Unit VU3621D

SKU: VU3621D-SCI

Price: $1,164.00

On Sale! $500.52

RTA Bath Vanity sink base with drawers 36" width, 21" depth, 34 1/2" height. Choose drawers Left or drawers Right from the dropdown box in the shopping cart.

Shaker Cinder Vanity Combo Base VSD42

SKU: VSD42-SCI

Price: $1,150.00

On Sale! $494.50

RTA Bathroom Cabinet, Vanity Drawer Base Combo 42" width, 21" depth, 34 1/2" height. Drawer Front 11 1/2"w by 6 1/4" h. Inside drawer box is 8 7/8" w by 3 1/4"h. Drawer box is 17 3/8" deep. Center drawer front is 18"w by 6 1/4"h.

Shaker Cinder Vanity Combo Base VSD48

SKU: VSD48-SCI

Price: $1,264.00

On Sale! $543.52

RTA Bathroom Cabinet, Vanity Drawer Base Combo 48" width, 21" depth, 34 1/2" height. Drawer Front 14 1/2"w by 6 1/4" h. Inside drawer box is 11 3/8" w by 3 1/4"h. Drawer box is 17 3/8" deep. Center drawer front is 18"w by 6 1/4"h.

Shaker Cinder Vanity Combo Base VDDB42

SKU: VDDB42-SCI

Price: $1,802.00

On Sale! $774.86

RTA Bathroom Cabinet, Vanity Drawer Base Combo 42" width, 21" depth, 34 1/2" height. Full overlay soft close doors, dovetail drawers, under mount epoxy coated soft close drawer glides, UV coated natural interior, matching exterior, metal snap & lock assembly system. Top Drawer Front 11 1/2"w by 6 1/4" h. Inside drawer box is 8 1/2" w by 3 3/8"h. Drawer box is 18" deep. Center and Bottom Drawer Front 11 1/2"w by 11 1/8"h. Drawer box: 8 1/2"w by 8 1/4"h. Door dimensions: 17 5/8" w by 22 1/2" h.

Shaker Cinder Vanity Combo Base VDDB48

SKU: VDDB48-SCI

Price: $1,847.00

On Sale! $794.21

RTA Bathroom Cabinet, Vanity Drawer Base Combo 48" width, 21" depth, 34 1/2" height. Shaker Grey: Full overlay, raised center panel, under mount full extension soft close drawer glides, soft close doors, dovetail drawers, UV coated natural interior, matching painted exterior. Top Drawer Front 11 1/2"w by 6 1/4" h. Inside drawer box is 8 1/2" w by 3 3/8"h. Drawer box is 18" deep. Center and Bottom Drawer Front 11 1/2"w by 11 1/8"h. Drawer box: 8 1/2"w by 8 1/4"h. Door dimensions: 11 3/4" w by 22 1/2" h.

Shaker Cinder Touch Up Kit

SKU: TUK-SCI

Price: $76.00

On Sale! $35.00

Touch up kit. Wax fill-in stick and stain matching touch up marker to quickly repair any marks made during installation or unboxing.

Shaker Cinder Floating Shelf FS36

SKU: FS36-SCI

Price: $303.00

On Sale! $130.29

An adjustable shelf composed of HDF that is finished on all sides except the back. Each shelf has a 25lb weight capacity and does come with all hardware needed to install. 36" x 11" x 1 1/2".

Shaker Cinder Floating Shelf FS48

SKU: FS48-SCI

Price: $358.00

On Sale! $153.94

An adjustable shelf composed of HDF that is finished on all sides except the back. Each shelf has a 25lb weight capacity and does come with all hardware needed to install. 48"w x 11"d x 1 1/2"h.

Shaker Cinder Floating Shelf FS60

SKU: FS60-SCI

Price: $462.00

On Sale! $198.66

An adjustable shelf composed of HDF that is finished on all sides except the back. Each shelf has a 25lb weight capacity and does come with all hardware needed to install. 60"w x 11"d x 1 1/2"h.

Shaker Cinder Dishwasher End Panel DWR3

SKU: DWR3-SCI

Price: $154.00

On Sale! $66.22

Dishwasher End Panel. 24" depth, 34 1/2" height, 1/2" thick with 3" trim plate , and cutout for the toe kick area. Includes 3" trimmable filler. Shaker Grey.

Shaker Cinder Shelf Board S2496

SKU: S2496-SCI

Price: $268.00

On Sale! $115.24

All wood Furniture shelf 96"H x 24" depth x 3/4" thick wood veneer. One long side edge banded to match the cabinetry.

Shaker Cinder Roll Out Tray ROT18

SKU: ROT18-SCI

Price: $144.00

On Sale! $61.92

Roll Out Tray for 18"W base cabinet. Includes mounting hardware & glides. Natural Finish. Please note: Roll out trays install in the center of the base cabinet. Installing in the bottom of the bases or in certain areas in pantries will require modifications to the height of the tray to clear the door hinges.

Shaker Cinder Roll Out Tray ROT21

SKU: ROT21-SCI

Price: $155.00

On Sale! $66.65

Roll Out Tray for 21"W base cabinet. Includes mounting hardware & glides. Natural Finish. Please note: Roll out trays install in the center of the base cabinet. Installing in the bottom of the bases or in certain areas in pantries will require modifications to the height of the tray to clear the door hinges.

Shaker Cinder Roll Out Tray ROT24

SKU: ROT24-SCI

Price: $167.00

On Sale! $71.81

Roll Out Tray for 24"W base cabinet. Includes mounting hardware & glides. Natural Finish. Please note: Roll out trays install in the center of the base cabinet. Installing in the bottom of the bases or in certain areas in pantries will require modifications to the height of the tray to clear the door hinges.

Shaker Cinder Roll Out Tray ROT27

SKU: ROT27-SCI

Price: $177.00

On Sale! $76.11

Roll Out Tray for 27"W base cabinet. Includes mounting hardware & glides. Natural Finish. Please note: Roll out trays install in the center of the base cabinet. Installing in the bottom of the bases or in certain areas in pantries will require modifications to the height of the tray to clear the door hinges.

Shaker Cinder Roll Out Tray ROT30

SKU: ROT30-SCI

Price: $187.00

On Sale! $80.41

Roll Out Tray for 30"W base cabinet. Includes mounting hardware & glides. Natural Finish. Please note: Roll out trays install in the center of the base cabinet. Installing in the bottom of the bases or in certain areas in pantries will require modifications to the height of the tray to clear the door hinges.

Shaker Cinder Roll Out Tray ROT33

SKU: ROT33-SCI

Price: $197.00

On Sale! $85.14

Roll Out Tray for 33"W base cabinet. Includes mounting hardware & glides. Natural Finish. Please note: Roll out trays install in the center of the base cabinet. Installing in the bottom of the bases or in certain areas in pantries will require modifications to the height of the tray to clear the door hinges.

Shaker Cinder Roll Out Tray ROT36

SKU: ROT36-SCI

Price: $207.00

On Sale! $89.01

Roll Out Tray for 36"W base cabinet. Includes mounting hardware & glides. Natural Finish. Please note: Roll out trays install in the center of the base cabinet. Installing in the bottom of the bases or in certain areas in pantries will require modifications to the height of the tray to clear the door hinges.

Shaker Cinder Drawer File Base DFB18

SKU: DFB18-SCI

Price: $743.00

On Sale! $319.49

RTA kitchen base 18" width, 21" depth, 29 1/2" height. Top Drawer: 6-1/4"H Bottom Drawer: 17-1/2"H