Base Cabinets - Shaker Grey
Shaker Grey RTA Kitchen and Bathroom Cabinets.
Five Piece HDF Door, Full Overlay Doors and Drawers, Recessed center panel. Dovetail drawers, Under Mount Full Extension Soft Close Drawer Glides, Concealed European Style Hinges with Soft Close Feature, UV Coated Natural Interior,½" Plywood Box with Painted Exterior,Lead time: RTA: 5 business days to ship.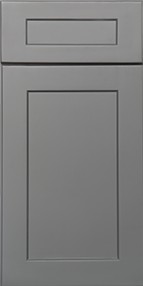 Shaker Grey Base Cabinet BT9

SKU: BT9-SG

Price: $394.00

On Sale! $177.30

RTA kitchen Base 9" width, 24" depth, 34 1/2" height. Full height door.

Shaker Grey Blind Base BBC36

SKU: BBC36-SG

Price: $739.00

On Sale! $332.59

Base Blind Corner Cabinet 27" width. 24" depth, 34 1/2" height. Requires 36-1/2" of wall to allow opposing cabinets to open properly. Can be pulled to 43" maximum, Door width is 9-1/2"w. Shaker Grey. Hinged left = blind left, Hinged right =blind right.

Shaker Grey Blind Base BBC42

SKU: BBC42-SG

Price: $902.00

On Sale! $405.90

Base Blind Corner Cabinet 39" width. 24" depth, 34 1/2" height. Requires 42-1/2" of wall to allow opposing cabinets to open properly. Can be pulled to 49" maximum. Door width is 15-3/4"w.

Shaker Grey Lazy Susan LSB33

SKU: LSB33-SG

Price: $1,332.00

On Sale! $599.40

Lazy Susan Corner Base 33" width, 24" depth, 34 1/2" height. 2 Wooden Revolving Trays.

Shaker Grey Lazy Susan LSB36

SKU: LSB36-SG

Price: $1,431.00

On Sale! $643.95

Lazy Susan Corner Base 36" width, 24" depth, 34 1/2" height. 2 Wooden Revolving Trays.

Shaker Grey Farm Sink Base FSB36

SKU: FSB36-USSG

Price: $853.00

On Sale! $383.85

Farm Sink Base 34.5"h x 36"w x 24"d. Will accommodate a farm sink with an apron up to 9"h.

Shaker Grey Diagonal Corner Sink Front DCSF42

SKU: DCSF-SG

Price: $356.00

On Sale! $160.20

Diagonal Sink Front Only Corner Sink Base Front - 26-1/4"W X 30"H - You will also need the SBF4242

Shaker Grey Diagonal Corner Sink Floor SBF42

SKU: SBF4242-SG

Price: $154.00

On Sale! $66.22

Corner Sink Front Floor - 42"W X 42"W X 23-1/4"D - Bottom Shelf only. Goes with DCSF42

Shaker Grey Base Microwave Cabinet BMW30

SKU: BMW30-SG

Price: $853.00

On Sale! $383.85

Microwave Base Cabinet - 30"W X 24"D X 34-1/2"H 1 DRAWER.

Shaker Grey Dishwasher End Panel DWR3

SKU: DWR3-SG

Price: $162.00

On Sale! $72.90

Dishwasher End Panel. 24" depth, 34 1/2" height, 1/2" thick with 3" trim plate , and cutout for the toe kick area. Includes 3" trimmable filler. Shaker Grey.

Shaker Grey Drawer File Base DFB18

SKU: DFB18-SG

Price: $742.00

On Sale! $333.90

RTA kitchen base 18" width, 21" depth, 29 1/2" height. Top Drawer: 6-1/4"H Bottom Drawer: 17-1/2"H