Base - Nova Light Grey
Nova Grey Kitchen Cabinetry and Bathroom Vanity Cabinets in stock.
Nova Grey. Recessed center panel, Full overlay, 1/2" plywood with veneer box construction, matching interior and exterior, dovetail drawers, full extension undermount soft close drawer glides, concealed 6- way adjustable soft close door hinges, Lead time: 10 - 15 business days to ship.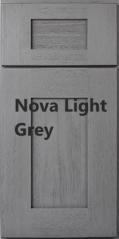 The door shown at the top of this page is the door style for each item listed below.
Sample Door - Nova Grey Shaker

SKU: ANsampledoor

Price: $38.00

Signature Pearl Sample Door, free shipping. To be refunded in full when the sample door is returned.

Nova Grey Shaker Touch up Kit

SKU: TUK-AN

Price: $35.00

Touch up kit. Wax fill-in stick and stain matching touch up marker to quickly repair any marks made during installation or unboxing.

Nova Grey Shaker Blind Base Cabinet BBC4245

SKU: BBC4245-AN

Price: $1,002.00

On Sale! $470.94

Blind Base Corner 39" width, 24" depth, 34 1/2" height. Requires 42" of wall to allow opposing cabinets to open properly. Can be pulled to 45" maximum.