Base Cabinets - Charleston Antique White
Charleston Antique White RTA Kitchen and Bathroom Cabinets.
Five Piece HDF Door, Full Overlay Doors and Drawers, Dovetail drawers, Under Mount Full Extension Soft Close Drawer Glides, Concealed European Style Hinges with Soft Close Feature, UV Coated Natural Interior,½" Plywood Box with Painted Exterior.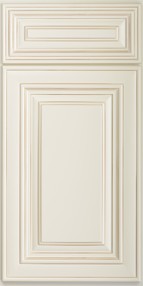 The door shown at the top of this page is the door style for each item listed below.
Charleston Antique White Base Cabinet BT9

SKU: BT9-CW

Price: $414.00

On Sale! $186.30

RTA kitchen Base 9" width, 24" depth, 34 1/2" height. Full height door. Charleston Antique white with dark glaze in the detail.

Charleston Antique White Drawer File Base DFB18

SKU: DFB18-CW

Price: $780.00

On Sale! $351.00

RTA kitchen base 18" width, 21" depth, 29 1/2" height. Top Drawer: 6-1/4"H Bottom Drawer: 17-1/2"H Charleston Antique white with dark glaze in the detail.

Charleston Antique White Base Spice Drawer BSD6

SKU: BSD6-CW

Price: $654.00

On Sale! $281.22

Base Spice Drawer. 6"W x 34 1/2"H, 24"D with 5 functional drawers. This cabinet does not come with any drawer slides. Charleston Antique White.

Charleston Antique White Sink Base SB30

SKU: SB30-CW

Price: $870.00

On Sale! $391.50

Sink Base Cabinet 30" width, 24" depth, 34 1/2" height. Charleston Antique white with dark glaze in the detail.

Charleston Antique White Sink Base SB33

SKU: SB33-CW

Price: $883.00

On Sale! $397.35

Sink Base Cabinet 33" width, 24" depth, 34 1/2" height. Charleston Antique white with dark glaze in the detail.

Charleston Antique White Sink Base SB36

SKU: SB36-CW

Price: $895.00

On Sale! $402.75

Sink Base Cabinet 36" width, 24" depth, 34 1/2" height. Charleston Antique white with dark glaze in the detail.

Charleston Antique White Diagonal Sink Front Only DCSF42

SKU: DSF42-CAW

Price: $374.00

On Sale! $168.30

Diagonal Sink Front Only Sink Base Front 26-1/4"W X 30"H- You will also need the Sink Floor SBF4242 .

Charleston Antique White Corner Sink Floor SBF4242-CAW

SKU: SBF4242-CAW

Price: $170.00

On Sale! $76.50

Corner Sink Front Floor - 42"W X 42"W X 23-1/4"D - Bottom Shelf only. Goes with DCSF42

Charleston Antique White Lazy Susan LSB33

SKU: LSB33-CW

Price: $1,380.00

On Sale! $621.00

Lazy Susan Corner Base 33" width, 24" depth, 34 1/2" height. 2 Wooden Revolving Trays. Charleston Antique white with dark glaze in the detail.

Charleston Antique White Lazy Susan LSB36

SKU: LSB36-CW

Price: $1,483.00

On Sale! $667.35

Lazy Susan Corner Base 36" width, 24" depth, 34 1/2" height. 2 Wooden Revolving Trays. Charleston Antique white with dark glaze in the detail.

Charleston Antique White Blind Base BBC36

SKU: BBC36-CW

Price: $776.00

On Sale! $349.20

Base Blind Corner Cabinet 27" width. 24" depth, 34 1/2" height. Requires 36-1/2" of wall to allow opposing cabinets to open properly. Can be pulled to 43" maximum, Door width is 9-1/2"w. Charleston Antique White. Hinged left = blind left, Hinged right =blind right.

Charleston Antique White Blind Base BBC42

SKU: BBC42-CW

Price: $947.00

On Sale! $426.15

Base Blind Corner Cabinet 39" width. 24" depth, 34 1/2" height. Requires 42-1/2" of wall to allow opposing cabinets to open properly. Can be pulled to 49" maximum. Door width is 15-3/4"w.

Charleston Antique White Angle Base BEC24

SKU: BEC24-CW

Price: $703.00

On Sale! $302.29

RTA kitchen Base Cabinet End Angle Corner. 24"W x 24"D x 34 1/2"H - 2 doors. Charleston Antique white with dark glaze in the detail.

Charleston Antique White Dishwasher End Panel DWR3

SKU: DWR3-CW

Price: $162.00

On Sale! $72.90

Dishwasher End Panel. 24" depth, 34 1/2" height, 1/2" thick with 3" trim plate , and cutout for the toe kick area. Includes 3" trimmable filler. Charleston Antique White.

Charleston Antique White Roll out Tray ROT18

SKU: ROT18-CW

Price: $144.00

On Sale! $61.92

Roll Out Tray for 18"W base cabinet. Includes mounting hardware & glides. Natural Finish. Please note: Roll out trays install in the center of the base cabinet. Installing in the bottom of the bases or in certain areas in pantries will require modifications to the height of the tray to clear the door hinges.

Charleston Antique White Roll out Tray ROT21

SKU: ROT21-CW

Price: $155.00

On Sale! $66.65

Roll Out Tray for 21"W base cabinet. Includes mounting hardware & glides. Natural Finish. Please note: Roll out trays install in the center of the base cabinet. Installing in the bottom of the bases or in certain areas in pantries will require modifications to the height of the tray to clear the door hinges.

Charleston Antique White Roll out Tray ROT24

SKU: ROT24-CW

Price: $167.00

On Sale! $71.81

Roll Out Tray for 24"W base cabinet. Includes mounting hardware & glides. Natural Finish. Please note: Roll out trays install in the center of the base cabinet. Installing in the bottom of the bases or in certain areas in pantries will require modifications to the height of the tray to clear the door hinges.

Charleston Antique White Roll out Tray ROT27

SKU: ROT27-CW

Price: $177.00

On Sale! $76.11

Roll Out Tray for 27"W base cabinet. Includes mounting hardware & glides. Natural Finish. Please note: Roll out trays install in the center of the base cabinet. Installing in the bottom of the bases or in certain areas in pantries will require modifications to the height of the tray to clear the door hinges.

Charleston Antique White Roll out Tray ROT30

SKU: ROT30-CW

Price: $187.00

On Sale! $80.41

Roll Out Tray for 30"W base cabinet. Includes mounting hardware & glides. Natural Finish. Please note: Roll out trays install in the center of the base cabinet. Installing in the bottom of the bases or in certain areas in pantries will require modifications to the height of the tray to clear the door hinges.

Charleston Antique White Roll out Tray ROT33

SKU: ROT33-CW

Price: $197.00

On Sale! $85.14

Roll Out Tray for 33"W base cabinet. Includes mounting hardware & glides. Natural Finish. Please note: Roll out trays install in the center of the base cabinet. Installing in the bottom of the bases or in certain areas in pantries will require modifications to the height of the tray to clear the door hinges.

Charleston Antique White Roll out Tray ROT36

SKU: ROT36-CW

Price: $207.00

On Sale! $89.01

Roll Out Tray for 36"W base cabinet. Includes mounting hardware & glides. Natural Finish. Please note: Roll out trays install in the center of the base cabinet. Installing in the bottom of the bases or in certain areas in pantries will require modifications to the height of the tray to clear the door hinges.

Charleston Antique White Furniture Base Molding FBM

SKU: FBM-CW

Price: $200.00

On Sale! $90.00

Furniture Base Molding solid wood. 3 1/2"H x 5/8"D x 96"L. Charleston Antique White.

Charleston Antique White Diagonal Sink Front Only DCSF36

SKU: DCSF36-CAW

Price: $263.00

On Sale! $113.09

Diagonal Sink Front Only Sink Base Front 17 13/16w X 30"H X 3/4"d- You will also need the Sink Floor SBF3636 .

Charleton Antique White Corner Sink Floor SBF3636

SKU: SBF3636-CAW

Price: $128.00

On Sale! $55.04

Corner Sink Front Floor - 36"W X 36"W X 3/4"h - Bottom Shelf only. Goes with DCSF36