Extreme RTA Cabinet Construction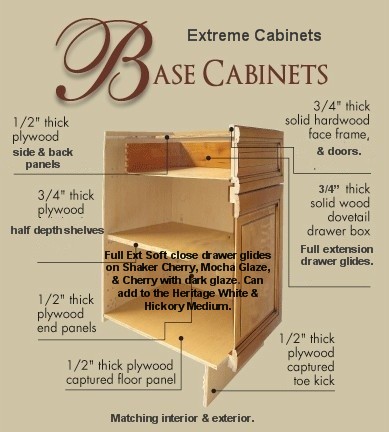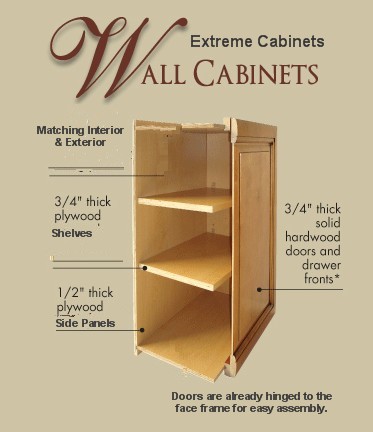 Lead time: 10 business days to ship.
(Specifications are subject to change slightly without notice.)
Aspen White and Shaker white have the five piece HDF door. HDF : Hardboard, also called high-density fiberboard (HDF), is a type of fiberboard, which is an engineered wood product. It is similar to particle board and medium-density fiberboard, but is denser and much stronger and harder because it is made out of exploded wood fibers that have been highly compressed. It is more expensive to produce and it differs from particle board in that the bonding of the wood fibers requires no additional materials. Unlike particle board, it will not split or crack.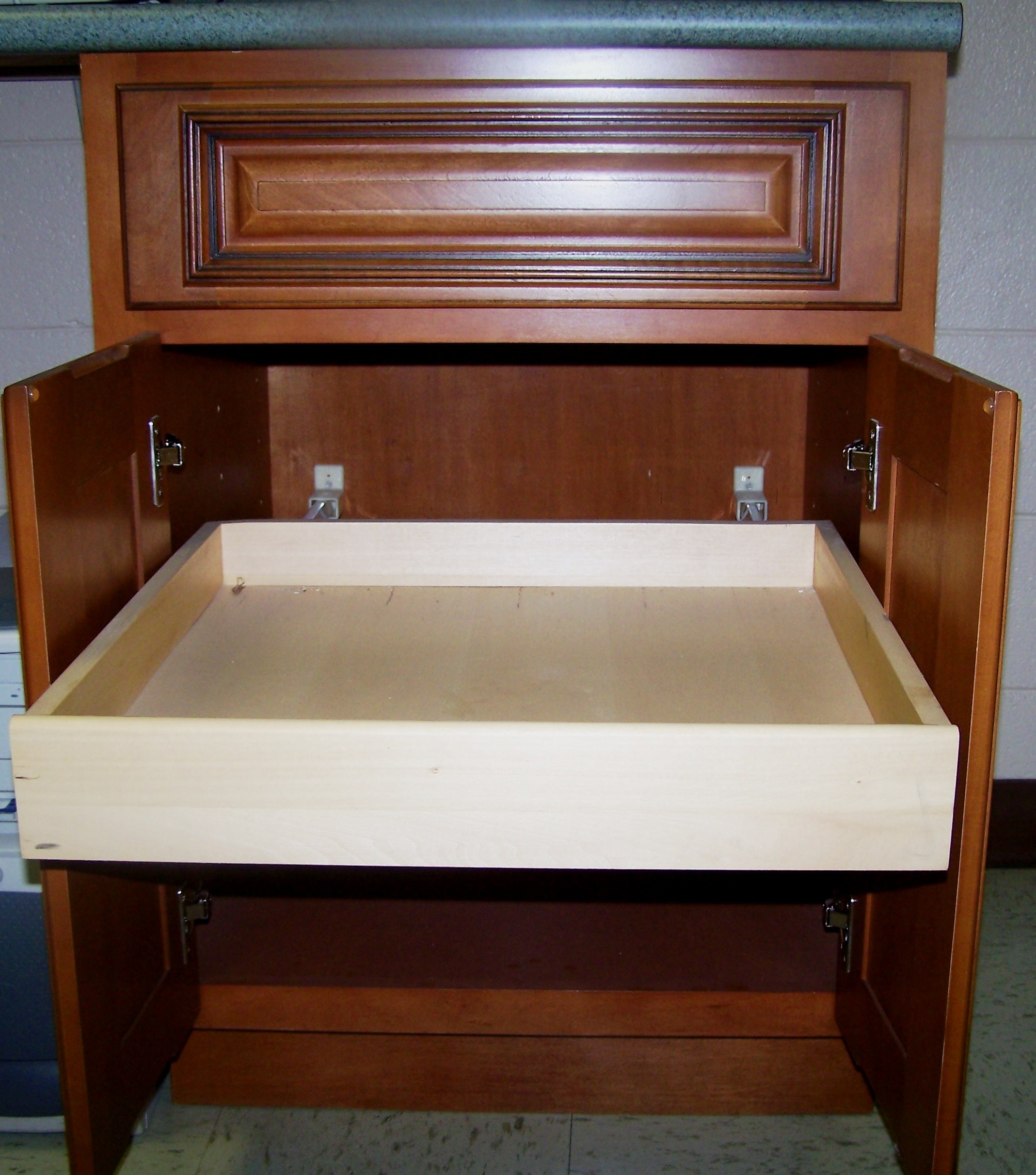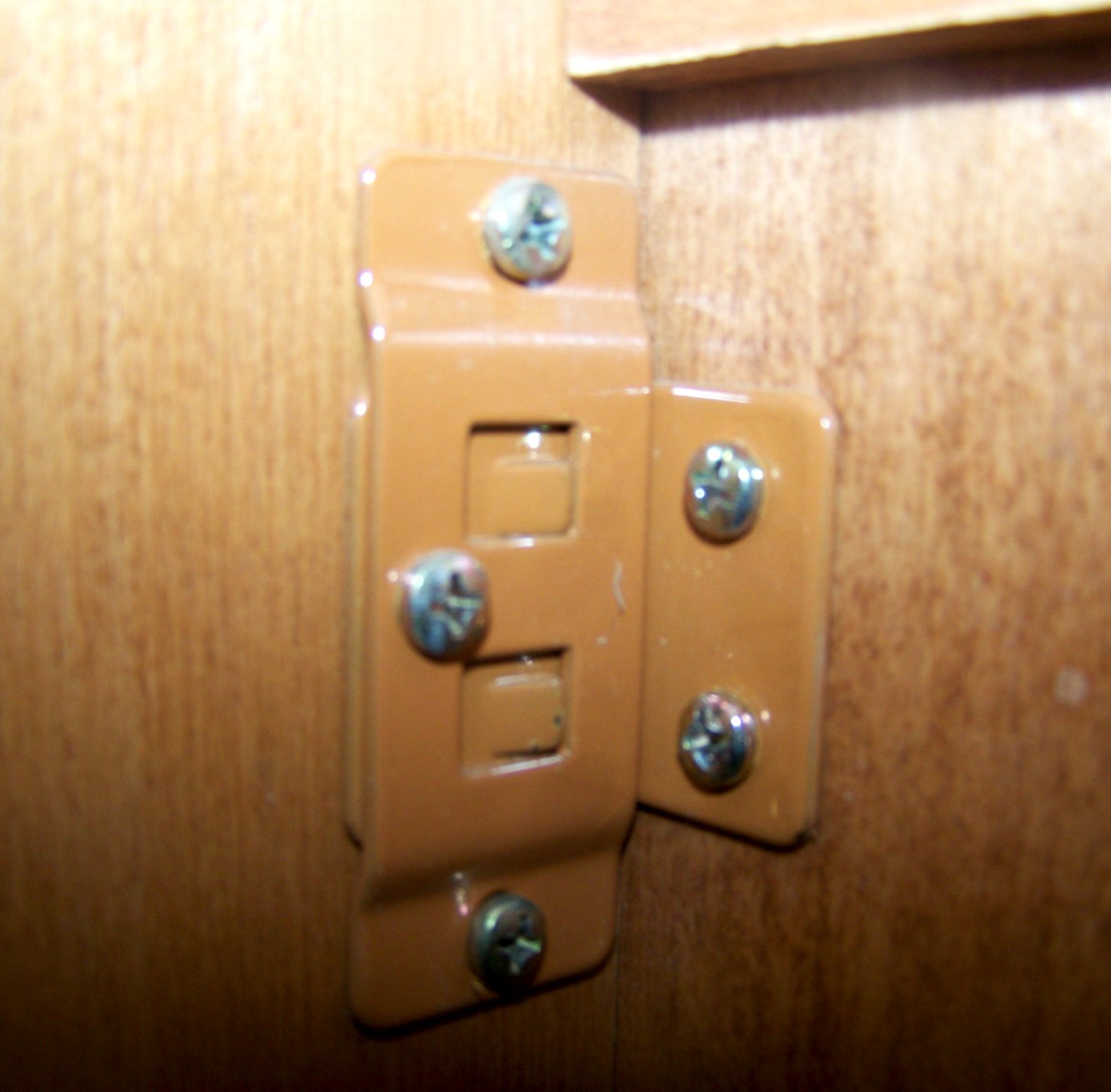 RTA Cabinet Assembly videos
The Extreme Line RTA Cabinets are the Faircrest brand. The Heritage White, Deluxe Light Oak, Shaker Cherry, Mocha Glaze, and Cherry with dark Glaze are
Standard Overlay RTA Cabinets
. If your existing kitchen is the standard overlay and you want to switch to the full overlay rta cabinets the kitchen design may need to be modified slightly.
With a full overlay door style a small filler should be placed between the kitchen cabinet & the wall to allow the cabinet door or cabinet drawer to open properly. The Heritage White and Light oak do not come standard with soft close glides. Soft close side mount full extension drawer glides can be added to the Heritage white, & light oak.
Extreme RTA Cabinets touch up kit TUK

SKU: TUK-HW

Price: $59.97

Touch up kit. Wax fill-in stick and stain matching touch up marker for Extreme Cabinets to quickly repair any marks made during installation or unboxing. Choose the door style in the shopping cart from the dropdown List.

Soft Close Drawer Glides for Extreme Line

SKU: SMSCDG

Price: $34.25

Extreme Cabinet Line Full extension soft close drawer glides (pair) accomodates one drawer. Soft Close for drawers senses how hard the cabinet drawer is being closed, then adjusts resistance to keep it from slamming shut. To upgrade the Heritage White or the Deluxe Legacy Oak cabinets. All other door styles come standard with the soft close full extension drawer glides.

Soft Close hinges for Doors Extreme Line

SKU: SCH

Price: $8.00

Extreme Cabinet Line soft close Hinges for doors. Can use one hinge for each door. Soft Close for doors senses how hard the cabinet door is being closed, then adjusts resistance to keep it from slamming shut. To upgrade Light oak, Heritage white, Cherry with Dark Glaze, Shaker Cherry, or Mocha Glaze. All others come standard with the Soft Close door hinges.